• Floyd Mayweather wins with unanimous points decision
• Judges score fight 117-111, 117-111, 118-110
• Miguel Cotto refuses to be interviewed after bout
Here's what Kevin Mitchell, our man at the MGM Grand says on that:
"In ring no earlier than 8pm but could be a deal later if earlier fights go the distance.
Alvarez-Mosley due on at 7pm."
On the plus side, the undercard could be tasty, not least Shane Mosley vs. Saul "Canelo" Alvarez.
Ouch.
That could be a long wait...
Cotto has, however, only lost two fights in his career: that one against Margarito and to Manny Pacquiao. No shame in losing to him.

No predictions, fellas?
That's true, Olga, but is it enough?
Alvarez is hoping for a fight against Mayweather in the not-too-distant future.
Mosley has fought Mayweather. And Pacquiao. And lost both.
"Atmosphere tense here. It was Puerto Rico 1, USA 0 after the last fight, when 35-year-old former world welterweight champ Carlos Quintana knocked over DeAndre Latimore at light-middle in the fifth. Oddly, Latimore's trainer, Jeff Mayweather (Floyd's) uncle, wasn't in his corner. Sadly missed, obviously.

Bumped into Paulie Malignaggi, a world champ again and a big favourite in the UK. "I'm so excited about this one," the New Yorker said. "It's a fight between the best fighter I ever fought (Cotto) and the best fighter I've ever seen." Paulie, who revived his career when he stopped unbeaten WBA welter champ Vyacheslav Senchenko in front of his Ukrainian fans in Donetsk, last weekend, was all smiles, as ever. But he is miffed he can't take up an invitation from the BBC to work the microphone at Amir Khan's world title fight here on the 19th. "My sister decided to get married that day."

Paulie gave Cotto a terrific fight at Madison Square Garden at light-welter six years ago. There's life in the old dog yet. Maybe we'll see him in the UK."
Let's hope there's some punching.
Anybody want to predict something really weird might happen? Like Mayweather knocking down his opponent as he attempts to apologise? Or how about something like this:
Craig Cottrell emails: "Mayweather fights more flat-footed at the higher weight, something for Cotto to exploit with body attacks. Cotto has decent footwork, so he needs to vary his attacks, but most of his work has to be at close range where speed is not so important."
"Mayweather and Cotto are in the building (which is always encouraging) but I don't think we're going to see them swapping pleasantries until 8.30pm at the earliest, the way the card is going.

Jesse Vargas, a local Mayweather protege Floyd tried to foist on to Khan a year or so ago as an "eliminator" before any showdown between them, was up against another 35-year-old with a few tricks, Steve Forbes. Vargas, slick enough at 22 and undefeated, gave his fellow Las Vegan his 11th defeat in 46 fights over 10 dull rounds at welter. It didn't do much for the crowd's patience."
But first a couple more predictions for the top of the bill:
Covering your options there, Shawna.
If Alvarez wins he may earn a bout with Mayweather (although, Floyd seems pretty adept at making sure he picks his opponents when he's almost certain to beat them).
If Mosley wins would he want to climb in the ring with Mayweather again? Maybe he could pass a possible challenge on to his son, Shane Jr.
"Being cut is a new experience."
"Mayweather, Cotto, Pacquiao, I am ready."
"He was pretty quick. He could go a long way. His punches were sharp and crisp."
"I live to fight. When you get the kids start to beat you up you might need to start promoting." And then he chuckles.
"It was great to hear the crowd cheering for me. I gave it all I got. I made sure he was worthy of being one of the kinds of the ring."
"How good is Alvarez? Not good enough to knock out a 40-year-old legend whose legs and punch left him at least three years ago, but he did what he had to do, winning widely on all three cards. This, after all, was Mosley in front of him, albeit a shadow of the fighter who had beaten De la Hoya twice. He will surely leave boxing now, one of the modern greats, a six-title champion. He might have stayed too long, but it was his choice, his business, his health. Now it is Alvarez's turn. He is a little static still, in his pre-punch set-up, but has an impressive selection of hurtful punches from all angles. And he is only 21."
Chris Perron writes: "Cotto. Please let him win!"
Johnny in Michigan: "Steve: Money in 6 rounds TKO. That's my take, amigo."
Jacob Stafford tweets: "do you think mayweather 1/7 on is a true reflection?"
Alex Diaz tweets: "@Busfield Money, money, money. I don't think this will go as long as most expect, Mayweather by KO in the 5th or 6th"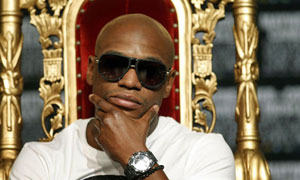 Mayweather. On points.
.
I think you've just said what needs to be said on that subject, Chris.
"Miguel Cotto was a tough competitor. He's tough, he's a future Hall of Famer."
"He came to fight, he didn't come for survival. He's a tough competitor."
Asked about going into a "lonely cell", Mayweather says "I have to accept it like a true man."
Now he's complaining about Bob Arun and why he's the reason a Pacquiao fight won't happen.
"I can't say who's next on my radar. I want to thank everyone who bought pay-per-view."
"I've been trying to make the Manny Pacquiao fight. Miguel didn't have a trouble taking the test."
Leannan writes: "Boxing masterclass from Mayweather."
Craig writes: "Thanks for reading that comment out. Made me night mate. Enjoying the commentary too. I agree with your card mostly. But think 7 was 9-10 cotto. Tighter than I thought I'm impressed with cotto."
Jim Moore writes: "Your description of the fight seems to show that Cotto is winning... yet you keep giving the rounds to mayweather... what's the deal? Cotto seems to be the aggressor and has bloodied mayweather.. sounds like Cotto is winning."
Well, Jim, Cotto was more aggressive in many rounds. But he didn't always land his punches. Those fights are tough to call. But I think Mayweather deserved the decision.
So Floyd Mayweather is back being interviewed again - he's jumped out of the ring to chat to the HBO commentators who seemed a little surprised. Got to give Mayweather his due, he has the gift of the gab and he knows how to schmooze the HBO PPV paymasters.
Thanks for reading. We will be back with more boxing in two weeks for Amir Khan's rematch with Lamont Peterson.
Kevin Mitchell's fight report will be online shortly.
Good night